Visiting pilots
Notes for visiting pilots 2020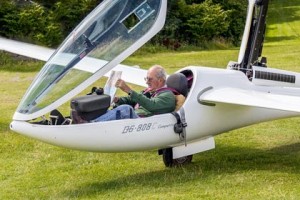 Our site is situated on top of an escarpment at the edge of the North Yorkshire Moors National Park. We fly 7 days a week, 364 days a year (weather permitting), and we are fortunate to be in Class G airspace. However we have several local airfields and military airfields nearby with associated ATZs and MATZs.
We request pilots intending to visit by air obtain PPR by telephone on 01845 597237, and then call on the radio when approaching the airfield on 118.685 to check local conditions and activity. We do not provide any sort of air traffic service.
Medical and logbook requirements
If you wish to fly a glider from our site, please bring a valid medical certificate or full driving licence with you, as well as your up-to-date logbook. Visiting pilots may fly our Club gliders subject having the appropriate experience and receiving a full briefing which may include a check flight.
Notes for visiting pilots are here: Notes for visiting pilots 2020
and  Standard Operating Procedures:YGC-SOPs 2020
Find us by air
Sutton Bank: 54.13.728N 001.12.580W
2 Grass runways: 06/24- 500 mtrs and 02/20 - 1000 mtrs
Local frequency: 118.685
View Map
NB: Runway details are approximate. Intended as a guide only, not to be used for flight planning purposes.
On site facilities
Our distinctive Clubhouse complex offers extensive facilities for members and visiting pilots. These include an upstairs lounge, cafe and bar. There are basic private bedrooms, toilets and showers, and a self-catering kitchen. We also have a well equipped briefing room with interactive facilities. For private owners, there is a workshop within the hangar complex and trailer parking at the top of the airfield.
Accommodation is available on one of our bedrooms which are charged on a per-night basis and we have camping pitches adjacent to the Clubhouse. There is a wide range of excellent offsite accommodation nearby. See examples at our local accommodation page
Cafe
Our on-site cafe caters to members, visitors and the general public. We provide breakfast, lunch, afternoon tea and dinner (on request) throughout the summer, on winter weekends and some winter weekdays. We offer excellent home-cooked food at very reasonable prices, ranging from sandwiches and soup to full Sunday roasts. We also have a daily specials board. Why not have a meal in the comfortable surroundings of the cafe, whilst enjoying the panoramic views?
WiFi
The Clubhouse features free-to-use FAST WiFi. The range of the WiFi extends throughout the Clubhouse and out onto the airfield and caravan park.