Sunday 24th to Friday 29th November 2019.
Posted: 29/11/2019 17:41
Sunday 24th.  The run of non-flying days continued as although 2.0 mm of overnight rain did not extend into daylight hours, a low overcast and very murky conditions carried along on a light E/ESE'ly wind ruled out any attempt to fly.
Monday 25th.  A slow moving depression meant another wet day, with 5.1 mm of rain falling, the combination of this with its associated low cloud and general murk, in a light to moderate E/ESE'ly wind, keeping the hangar doors firmly closed.
Tuesday 25th.  Monday's depression, the meterological kind, had not moved very far, so it was another wet, cloudy day in a persistent light to moderate ESE'ly flow.  Clearer skies did arrive in the late afternoon, but too late to comtemplate any flying.  It was not a day of all gloom and doom however, for a goodly number of members and partners assembled at the Carpenter's Arms in Felixkirk for what had been advertised as a Non Christmas Christmas Party.  1920's themed,  guests introduced themeselves to each other via a pre-dinner ice breaker before sitting down to their pre-ordered meal and continuing a variety of non-gliding based conversations. The dinner was followed by a 1020's themed quiz with the winning team registering a maximum score, before gliding became the activity, with a competitive free distance task flown with model, chuck gliders won by who else, but our President Nick Gaunt. At the end of the evening, Nick, Christina Griffiths and Steve Thompson provided congratulatory speeches for the organisers and attendees of both the dinner and the Tuesday evening training activities.  A flavour of a very successful and enjoyable evening can be gauged by the following photos which also provide something of a challenge in determining the identity of the participants in their very ungliding garb.  The photos also show some of the gliding competiton activity and a spot landing, to crown it all.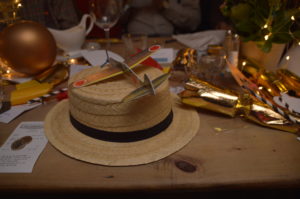 Wednesday 27th.  A light NNW'ly increased to moderate before declining to become light again as Tuesday's depression slowly tracked eastwards over the North Sea. However, it still rained from 1200 hrs for the rest of the day out of a low overcast, so no flying was possible.
Thursday 28th.  A moderate and occasionally moderate to fresh NW blew, accompanied by, you've guessed it, low cloud and rain, the latter ceasing around midday.  However, the former didn't clear until mid afternoon so it was yet another non-flying day.
Friday 29th.   A ridge of high pressure extending down from the north at last brought sunny skies and a light to moderate NNW'ly wind, this slowly declining to become light by the end of the day.  The absence of rain and low cloud did, not, however, result in a flying day, as the 35 mm of rain that had fallen over the past week had rendered the airfield too waterlogged to allow flying.   It did not, however, stop the return to site of Eurofox IOF, complete with a low hours engine, the one that failed in flight also returning to site prior to it being sent back to the supplier.  The return of the Eurofox to tugging duties awaits a few checks that should be completed in a relatively short time, weather permitting. 
This blog describes a snippet of life at the Yorkshire Gliding Club. Why not take a flight and try it yourself, or we can teach you to fly as a full club member.