Tuesday 27th February to Saturday 3rd March 2018
Posted: 03/03/2018 17:58
Tuesday 27th.  After snow overnight, the light to moderate NE'ly wind continued to bring in frequent and   heavy snow showers, the temperature barely rising over freezing so there was no flying.
Wednesday 28th.  Another non-flying day as the wind had become a moderate to fresh E'ly with 27 kt maximum gusts so  that the lying snow started to drift adding to the heavy and frequent snow showers.  It was also an ice day with the temperature at Topcliffe rising from an overnight low of -7.5C to a day time maximum of -1.5C.
Thursday 1st March.  A predominately cloudy day as the snow showers started to ease off but the lying snow increasingly drifted off the fields and made the approach road from the A170 to the club impassable, the wind being a fresh to strong E'ly which gusted into the mid 40kts.
Friday 2nd.  The E'ly wind continued to blow but  had decreased a little in strength to become moderate to fresh while still gusting into the mid 30 kts.  With the snow still drifting off the fields the approach road to the club remained impassible although much of the snow on the airfield had been blown off.  Mark Newburn and Mike Brown walked to the club from the visitor centre at the top of Sutton Bank in order to undertake some work on the simulator joining Andy Parish and Jesper Mjles who remained on site.  Mark provided the following photos.
Saturday 3rd.  The E'ly wind continued to decrease in strength, now being light to moderate, while the low overcast produced a few light snow flurries.  A major effort by the local farmers using 2 snow plough equipped tractors and 2 JCB's had opened up the approach road to the club from the A170, allowing Toby Wilson to get to the club on his mountain bike and George Rowden to get there by car, George providing the following photos, the first 2 showing the front entrance and back entrance to the club house, the latter not yet fully cleared.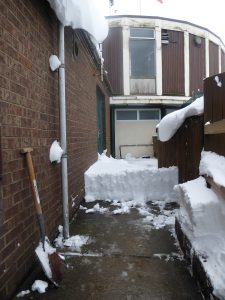 The next 2 photos show the cafe area having had its carpet removed in preparation for varnishing the wooden floor, with some work still to do to remove the remnants of the adhesive used to keep the carpet in place, Jesper Mjles doing some of this while staying on site.
Finally, the next 2 photos support Josephine's recent email notifying everybody that the approach road to the club is open, while confirming the amount of snow that caused its closure.  (The photos were taken on the way back to the A170 after visiting the club and parking in the car park)
This blog describes a snippet of life at the Yorkshire Gliding Club. Why not take a flight and try it yourself, or we can teach you to fly as a full club member.