Wednesday 4th to Saturday 7th January 2017
Posted: 07/01/2017 18:01
Wednesday 4th. A moderate N'ly blew on a cold and sunny day at Sutton, generating a N'ly wave system that John Carter and Mr Hughes, a visitor from Bowland Forest,  exploited in K21 KLW to climb to around 7,500' asl in  their flight of 1:14.  However, the wave was accompanied by very turbulent conditions on take off and landing that led to a decision to suspend flying for the rest of the day.  The following photos are from John.
Thursday 5th.  The turbulent and N'ly winds of Wednesday were replaced by a much lighter wind on Thursday, this starting off in the N but soon veering through to the S before becoming SE'ly by the end of the day.  Under sunny skies, 2 Falke flights and 11 ATs were flown, with the day's 4 First Flight pupils enjoying the smooth conditions and good visibility from their 3,000' tows which also meant that they provided the longest flights of the day, all in the DG500.  Thus Kate Bell, flying with Steve Thompson managed to achieve the day's only flight over 30 minutes, 31 minutes being their achievement, while Messrs Lewis and Moody had 25 and 24 minutes respectively, with either Stuart Heaton or Albert Newbery.  Nigel Burke and Steve Ogden flew the longest solo flights of the day with 23 and 22 minutes respectively in K21 KLW.
Friday 6th.  A slow moving, occluded front kept the site in cloud and patchy rain all day, the latter amounting to 4.3 mm, and meant it was a non-flying day at Sutton.
Saturday 7th.   A cloudy ridge of high pressure provided 8/8ths cloud cover at around 1400' QFE as mist and murk prevailed in the Vales of York and Pickering .  The murky conditions did not, however, extend to the fields close to the site, as the following photo shows, and flying got under way just before 1100 hrs.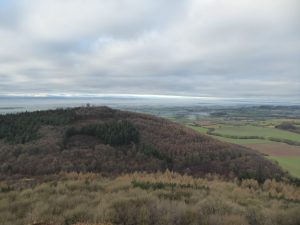 The low base meant low flight times, so 2 of the day's First Flight pupils were given 2 flights each, Raphael Leybourne flying his 2 with Ron Beezer in K21 KLW while Joan Bruce flew one of hers in KLW with Chris Gill and  the other with Paul Whitehead in the Falke.  The Falke also had another flight when Jim McLean and Polly Whitehead set off for a tour around Castle Howard and Knaresborough, but their ambitions were thwarted, and the rest of the  day's flying brought to a halt around midday, when the site became affected by waves of orographic stratus.  However, this did not prevent Steve Ogden having 2 flights with Paul Whitehead in the DG1000 and thus completing his Bronze C, so well done Steve.  Mid afternoon brought little improvement in conditions so the day was scrubbed and, after putting the gliders, tugs and ground equipment away, Paul Whitehead, assisted by Polly, presented a briefing on the dangers of hypoxia and hyperventilation  associated with high altitude wave flying.
This blog describes a snippet of life at the Yorkshire Gliding Club. Why not take a flight and try it yourself, or we can teach you to fly as a full club member.