Wednesday 30th November to Friday 2nd December
Posted: 03/12/2016 16:10
Wednesday 30th.  A light WNW'ly briefly strengthened to moderate in the middle of the day, probably the result of wave influence, as some of the day's 13 ATs resulted in some limited climbs in weak lift with 2 flights exceeding an hour and five 30 minutes.  Roger Burghall flying the DG303 recorded the longest flight, 1:22, reporting that most of this time was spent getting back to his release height of 2,500' QFE.  Nigel Burke, also a DG303 pilot, joined Roger in the > 1 hour list with 1:12, while Steve Thompson and Peter Robinson just missed out with their 58 minutes in K21 KLW.  Mr G Wright flew Astir DPO for 45 minutes, with Colin Troise having 32 minutes in the Discus off the last flight of  the day, Steve Thompson and David McKinney having set the ball rolling with 30 minutes in K21 KLW off the first flight of the day.  The day also saw a further 4 people introduced to gliding, all of whom had departed the site by mid afternoon and so missed a splendid sunset which was captured by Roger Burghall as shown below.
Thursday 1st December.  A light NW'ly blew all day accompanied by a wavy looking sky that became overcast at times.  16 ATs were flown, the conditions resulting in 3 each of the club two seaters and single seaters being flown.  Andy Parish and Ron Linton set the mark for the day with 52 minutes in K21 JVZ off the first flight of the day, during which they climbed to 4,400' asl, while Graham Taylor had 3 flights, 2 in Astir DPO and the other in the Discus, amassing a total flight time of 105 minutes.  David Campbell and Keith Davey joined the group of 6 who exceeded 30  minutes flying time with 39 minutes and Albert Newbery had 30  minutes in KLW with K McKenzie, one of the 3 First Flight pupils of  the day.  The only flight to exceed an hour was that by Rob Bailey who had 2:38 in the DG303, during which he climbed to 8,000' asl and on the way recorded the following photo, describing the climb rates as weak.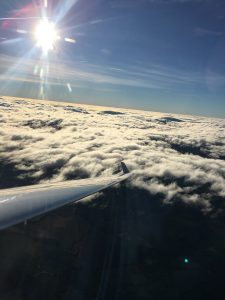 Friday 2nd.  An initially light to moderate N'ly blew, this decreasing to light as a westward travelling cold front brought increasing cloud and eventually some light rain that led to flying stopping around 1500 hrs.  Prior to this 5 ATs were flown, 3 for First Flight pupils, with the lack of lift leading to the longest flight being of 24 minutes, this being achieved by Andy Parish and N Allaway in K21 KLW, the only glider to be utilised on the day.  Somewhat surprisingly, the day's Mile High pupil, Steven Taylor only managed a flight time of 22 minutes in the company of Andy Parish, while the day's flying also included a single Falke flight.
This blog describes a snippet of life at the Yorkshire Gliding Club. Why not take a flight and try it yourself, or we can teach you to fly as a full club member.