Friday 11th to Wednesday 16th November.
Posted: 16/11/2016 20:52
Friday 11th.  Friday brought a light to moderate SE'ly than slowly veered into the SSE, the initially blue, sunny skies gradually clouding over as high cover moved in from the west.  The lack of any usable lift meant that flight times and launch heights were directly related with two of the day's 5 First Flight pupils enjoying 2 of the longest flights of the day.  These were both with Mike Smith who took John Milne for 28 minutes in the DG500 and then Mr Petty for 24 minutes in K21 JVZ.  Splitting the difference were Colin Troise and Phil Lazenby who shared a 27 minute flight in the DG500.  Phil later flew the Ka8 for 25 minutes while Colin had 18 solo minutes in the DG500, helping the launch total to 13 ATs.
Saturday 12th.  The high cover of Friday presaged the arrival of an active front that deposited 21.6 mm of rain overnight and into the morning, the moderate SSE'ly moderating and backing to become a light NE'ly by the end of the day.  The change in wind direction was accompanied by a clearance of the low cloud that had shrouded the site for much of the day, but the clearance came too late to allow any flying.
Sunday 13th.  Saturday's cloud had disappeared by the start of flying on Sunday, a light NW'ly  and blue skies allowing flying to commence at 1015 hrs.  Flying then continued until just before 1600 hrs with 23 ATs being flown.   The initially sunny skies began to cloud over during the afternoon as the wind backed into the SSW,  with eventually a few spots of rain arriving, but this latter event post dated the end of flying.  The lack of lift meant that there were no flights over 30 minutes, the closest to this marker being the 26 minutes flown by Albert Newbery and First Flight pupil H Couston in the DG1000, closely followed by Graham Evison and Louis Elfari, who had 24 minutes in the same glider.    24 minutes was a popular flight time on the day with Mark Newburn achieving this via his solo flight in the newly returned DG303, albeit off a high tow, and Graham Evison replicating his earlier flight, but this time with First Flight pupil Colin Vine.
Monday 14th.  A light to moderate to moderate W'ly blew after some overnight rain, the air mass providing some isolated showers but also some weak, low level wave close to the site but better wave conditions further west.  2 early winch launches by John Carter and Dick Cole, both flying K21 JVZ solo, saw them dodging low cloud on the hill, with flight times of 13-25 minutes, but improving conditions with respect to cloud base, led to a change to ATing with 6 subsequent launches, one of which was John Ellis' self launch in his DG800.  John's launch and 3 other ATs led to flights of over an hour, as weak wave of low vertical extent was used, peak altitudes being around 4,500' asl close to the site.  John explored out as far as Ripon  finding a better, if slow climb to around 7,500' asl between Boroughbridge and Dishforth in his flight of just over 3 hours, while John Carter and Geoff Turner had 1:32 in K21 JVZ, Rob Bailey 1:23 in the Discus and Steve Thompson 1:21 in Astir DPO.  A photo of the low level wave cloud over the site is shown below courtesy of Rob.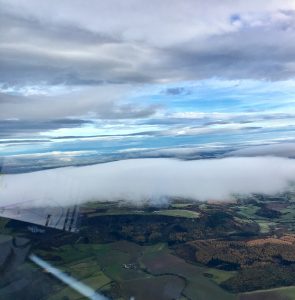 Tuesday 15th.  A light  N'ly that backed into the WNW did not provide much in the way of lift but did provide some interesting temperatures, including a high of 13.2 C at 0330 hrs, the temperature then steadily falling as the day progressed, dropping to 7.5C at 1820 hrs.   The lack of any usable lift meant that flight times and launch heights were directly related with Richard,  the day's Mile High pupil, amassing 33 minutes with Steve Thompson in the DG500.  David Campbell and Konrad Kawalec came a noble 2nd with 27 minutes in K21 JVZ, with Andy Parish and First Flight pupil Ruth Hodgson having 23 minutes in the DG500.  Polly Whitehead flew the longest solo flight, 21 minutes in JVZ, while Andy Evans took the Falke for a local jaunt to add to the 7 ATs of the day.
Wednesday 16th.   Very variable wind speeds, ranging from light of moderate to moderate to fresh, with accompanying changes in direction, as indicated by the windsock, were indicative of a NW'ly flow, this becoming W'ly by early afternoon before dropping to light to moderate.   The latter change led to abandonment of winching as a launch method, but the timing of the change only allowed 3 ATs to be flown off runway 24 before the setting sun brought flying to a halt, the preceding 15 launches being via the winch.    Pilots variously described flying conditions as rough or boisterous, with tales of feet coming off rudder pedals and ineffective full aileron deflections, while the hill lift was also not that all dependable, lows of below 400' QFE being interspersed with highs of 1200' QFE.    Wave interference and rotor was suspected, but only 1 flight contacted wave, this being by Jesper Mjels in his DG400, Jesper using his engine to climb to 4,000' asl and penetrate into wind, contacting the wave around 3,000' asl over Dishforth and eventually climbing to 13,500' asl.  Jesper returned to site after 2:40 minutes complaining of the cold, with 4 other pilots exceeding an hour and 5 more having between 30-60 minutes of flying time.  The >1 hour pilots were Paul Whitehead, first with Alistair Monkman  with 1:21 and then with Mr Wallace with 1:10, both in the DG1000, Fred Brown, the only other private owner to launch, had 1:25 in his Ventus and Colin Troise 1:14 solo minutes in K21 JVZ.
This blog describes a snippet of life at the Yorkshire Gliding Club. Why not take a flight and try it yourself, or we can teach you to fly as a full club member.