Saturday 22nd to Thursday 27th October
Posted: 28/10/2016 15:09
Saturday 22nd.  A cool, light to moderate NE'ly flow brought a few showers but little in the way of lift, but this didn't diminish the enthusiasm of the 9 Scouts, 6 Durham University Students and 4 First Flight pupils and their instructors who flew on the day, providing the majority of the day's 30 ATs.  Syndicate partners Tony Drury and John Marsh also contributed 3 flights in their DG303, with Tony taking a high tow and establishing the day's longest flight, 52 minutes, with Bob  Beck and Uni Student Tammy Cheung, providing the  only other flight to get to 30 minutes, this time in K21 KLW.  Andy Hatfield and his Scout P2 J Hodgson, came close with 28 minutes in the DG500,  while Simon Altman managed the longest (and only) solo flight in a club glider with 19 minutes, the day's flying being completed by 2 flights in the Falke.
Sunday 23rd.   The meteorological  situation had changed little from Saturday, the wind being a light to moderate NE'ly before veering into the ENE.  The showery theme continued, with an early afternoon shower disrupting operations for a while with the day's AT total being 22.   The continued presence of 5 Scouts, 2 Durham University Students and 3 First Flight pupils meant it was another busy day for the club's 2 seaters. John Marsh in his DG303 and Duncan Pask in his LS10 provided 3 of the day's launches,  John finding some weak wave on his second flight to extend his flight time to the day' peak of 44 minutes, with Duncan managing 42.  John Carter and  J Broome flew for 34 minutes in the DG1000, courtesy of it being a Mile High flight, while for those releasing at more usual launch heights, 21 minutes of flying time was the next best recorded, with Kelly Teagle and Scout I Royston in K21 JVZ and Steve Thompson and Andy Evans in the DG1000 all achieving this.  Simon Altman was again the only solo pilot to fly in a club glider, this time managing 15 minutes in the DG500.
Monday 24th.  The wind was again persistent from the NE, but the showers had disappeared and the morning was sunny, although a medium level overcast spread in during the afternoon.  21 ATs were flown during the day, with visiting instructor Will Blackburn making his presence felt by flying all four of the longest 2 seater flights, helped in part by the fact that 2 of these were for Mile High pupils.    The quiescent nature of the atmosphere can be judged by the fact that the 2 Mile High flights just managed to exceed 30 minutes, 35 with  Neil Gibson in the DG500 and 31 with Michael Burrow in the same glider, while the 3,000' tows for the day's other 2 First Flight  pupils managed to achieve just 23 minutes.  The above puts into context the achievement of J Hallewell who flew Astir DPO for 27 minutes.
Tuesday 25th.  A developing high pressure system brought a day of light winds and sunny skies to Sutton as well as a light SE'ly flow.  This combination led to  the development of overnight  fog in the Vale of York that was slow to clear, but clear air around the site allowed flying operations to commence as normal just after 1000 hrs and also provided John Carter with the opportunity to take the following photos of the fog shrouded Vale of York.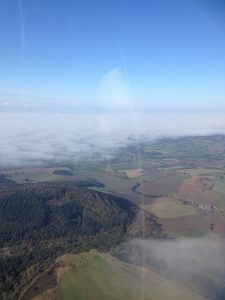 The stable conditions meant it was a good day for introducing the day's 4 First Flight pupils to the beauty and sereneness of gliding with their 3,000' tows getting them to the top of the duration lists, their flight times being in the 24 to 28 minutes range.  While their instructors made sure they received a good introduction to gliding by virtue of high tows, Andy Parish and Andy Bedford used the low cost, 1,000' tow option behind the Eurofox to concentrate on circuit training,  with Andy having 20% of the day's tows via this regime.  The benign conditions also encouraged the club's Falke pilots to have 2 sorties.
Wednesday 26th.  After an October dominated by winds from a N'ly to E'ly direction, Wednesday brought a moderate W'ly, allowing the winch to be brought out of hibernation, although some pilots opted for ATing.  The day's launch total was 24, comprising 16 via the winch and 8 on AT, with 6 flights exceeding an hour and 12 thirty minutes.  Hill lift was the main source of the day's soaring flights, with the maximum operating height being around 900' QFE, but there was wave around, although only Ron Beezer flying the DG1000 solo made significant use of it, climbing to around 6,000'.  Ron would have gone higher, but  an iced up canopy resulting from a brief skirmish with cloud, coupled with a lack of the required instrumentation meant discretion won over valour.   Ron's > one hour  flight time of  1:17 via AT being matched by Steve Ogden with 1:06 in Astir KRN and Alan Beaumont's 1:02 solo in the DG500.  Among those taking winch launches, Roger Burghall and Phil Lazenby both had 1:08. Roger in his ASW20 and Phil in the Ka8, while Roger's syndicate partner, Tor Tavener had exactly an hour in the ASW20.  The day's 4 First Flight pupils also enjoyed the opportunity to soar, while the best of the 2 seater flights saw Ron Beezer/Naomi Kennard have 52 minutes in K21 KLW off the winch and Graham Evison/Rebecca Neale have 49 minutes in K21 JVZ off an AT.
Thursday 27th.   A moist WSW'ly blew all day, gusting into the high 20 kts at times, so it was out with the winch for launches off runway 24.  Expectations for a good hill and wave soaring day received something of a blow when the first flight of the day, K21 KLW with John Carter and David Campbell on board, was back on the ground after a flight time of 4 minutes, the expected hill lift being cancelled out by the down of the  expected wave.  Things from a flying perspective improved after that, the day's 28 winch launches generating 9 flights of greater than an hour, 12 greater than 30 minutes and some good wave climbs.  Martyn Johnson in his DG600 had an interesting 3:26, his early attempts to contact the wave by pushing forward being hampered by relatively low starts from the hill which was still being affected by the down going part of the wave system.  One return to the hill saw Martyn 100' below hill top height, providing some "will he won't he land out"  speculation from the launch point, particularly from his 2 syndicate members.  However, Martyn did recover and used his low point to get a  height gain of around 18,500', as he eventually reached 19,400' asl to the SW of Ripon.  His return from there with full airbrake still found him at 10,000' on his return to Sutton.  Two seater pilots John Carter/Conrad Kawalec in K21 KLW and Paul Whitehead/Barry Ogelby in K21 JVZ all reached 10.000' asl, with Paul and Barry having an excursion to York and back in their flight of 1:31, while John and Conrad had 2:01, during which time John took the following photos, having experienced peak climb rates of up to 15 kts.
Shallbourne GC members, Phil Morgan and Chris Bessant took their Janus for a local exploration lasting over 2 hours, while David Campbell made up for his short first flight by having 2:03 in Astir KRN.   Most pilots managed to contact the wave, including Steve Thompson and Duncan Pask in the DG500 who reached 8,000' in their flight of 1:39,  while the variable cloud amounts led to some climbs having to be abandoned due to closing slots, this being the fate of George Rowden in his LS8-18 having climbed to 6,500'asl  in 6-8 kts of lift and Colin Troise and Nigel Burke in the DG500 who with a flight time of 1:12, abandonrd an early climb due to cloud,  but eventually reached 6,000' later as the wave slots reappeared.  Other pilots to exceed an hour's flying included Ron Beezer and Christina Griffiths with 1:28 in the DG1000, and Andy Parish and Geoff Turner with 1:10 in KLW.
This blog describes a snippet of life at the Yorkshire Gliding Club. Why not take a flight and try it yourself, or we can teach you to fly as a full club member.