Sunday 14th to Monday 15th August.
Posted: 17/08/2016 13:08
PS to previous post.  Jon Hart has provided the following photo taken during his late afternoon wave flight over the Yorkshire Dales on Friday 12th August which very nicely illustrates the beauty inherent in our sport of gliding.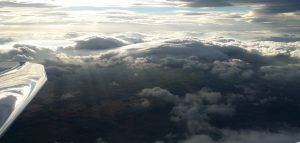 A light W'ly blew for most of the day before veering into the NE late afternoon, the grey overcast to start the day breaking up by lunch time to provide  reasonable soaring conditions.  27 ATs were flown which included 9 private owner launches and the 2 seaters were kept  busy with members and 9 First Flight pupils.  15 of the day's flights exceeded 30 minutes with 6 an hour, the majority of the latter being by the private owners, with 4 exceeding 2 hours.  Rob Bailey flew 215.8 km in his ASG29t, with TPs at Guisborough W, Market Weighton, Garforth and Ripon after starting at Thirsk, in a flight of 3:20, while Martyn Johnson in his DG600 also just topped 3 hrs flying time.  Duncan Pask in his LS10 and Tony Drury in his DG303 both had > 2 hrs, with the longest of the club single seater flights being Sue Aherne's 1:18 in Astir DPO off the 3rd last flight of the day, Martin Newbery having earlier had just over an hour in the same glider.  Ron Beezer's Mile High flight with D Samuel posted the longest 2 seater flight of the day, 57 minutes in the DG1000, with Steve Thompson and Jane Benson coming close with 50 minutes in K21 JVZ.  3 Falke flights completed another busy day at Sutton.
Monday 15th.  With high pressure in charge to the east of the UK, a light to moderate SE'ly blew at site, this providing  conditions that tempted 10 private owners to launch and a number to fly cross country, some of these experiencing problems with poor soaring conditions near the east coast, although locally this was  not a problem.  17 of the day's launches exceeded 30 minutes with 16 exceeding an hour. most of the latter by private owners, many of whom had 3 plus hours of soaring flight.   Rob Bailey topped the endurance and distance list with 4;50 as he flew his ASG29t 358.2 km around Horncastle, Bakewell and Pontefract  having to do a quick dash in and out of sea air to reach Horncastle and then finding weak  blue conditions from  Bakewell all the way home.  John Ellis in his DG808 was another cross country pilot to encounter sea air, this causing him to abandon is attempt to reach Beverley on a Sutton/Hawes/Beverley/Sutton task and instead turn at Market Weighton, the revised task being 266.5 km long.  Phil Lazenby in the club DG303 found woolly conditions as he approached and turned Goole, but then going NW to Grassington enjoyed the scenic beauty of Wharfedale as he completed his 202.4 km task.  John and Phil's 3-4 hour flights were matched by those of Albert and Martin Newbery who also flew a similar cross country to Phil in their DG1000, Martyn Johnson in his DG600 , Ken Arkley in his LS8-18 and Don Austin in his Kestrel.   Those flying club gliders, made use of the whole of the available club fleet, with both Tor Tavener and  Resh Khodabocus having 2 hrs in the Discus, Frank Wilson having 2:06 in Astir DPO and Mark Newburn having 1:06 in the same glider.  Monday also saw the start of another week's gliding course with members Phil Turner, Alan Cuthbert, Edgar Woodhead and Bill James having a good introduction to gliding and soaring, Phil Turner in particular having 1:04 with course instructor Tony Kendal in the DG500 while the Falke had 2 flights.
This blog describes a snippet of life at the Yorkshire Gliding Club. Why not take a flight and try it yourself, or we can teach you to fly as a full club member.