Friday 26th to Monday 29th August
Posted: 30/08/2016 10:14
Friday 26th.  After my departure from site on Friday a further 8 ATs were flown into early evening thermal conditions, this being particularly appropriate for the 5 First Flight pupils who were on the flying list, who all enjoyed flights of over 30 minutes.  Andy Parish and Richard Lucas had a flight of 49  minutes in K21 JVZ off the penultimate flight of the day, Richard being one of the early arrivals for Slingsby Week, due to commence on Saturday 27th.
Saturday 27th.  Andy Parish and Phil Lazenby welcomed the 30 visitors for Slingsby Week as a light ESE'ly blew and early morning sunshine became increasingly replaced by cloudy skies, presaging the arrival of rain later in the day, this leading to flying terminating around 1500 hrs.  22 ATs were flown before this, the cloudy conditions ensuring that no flight exceeded an hour and only 3 exceeded 30 minutes.  Slingsby Week visitors Ken Porter and Bill Cook in their decidedly non Slingsby Duo Discus set the bar for the day with 51 minutes, with only the high tows for First Flight pupils Caron Park and C Taucson helping them, with instructor Fred Brown in  the DG1000, to acheive 37 and 35 minutes respectively.
Sunday 28th.  The front responsible for an overnight rain total of 13 mm crossed the site around 0730 hrs leaving a legacy of a light to moderate NW'ly that progressively veered into the N and low cloud, the latter preventing any glider flying, although the Falke had a single flight.
Monday 28th. A ridge of  high pressure provided a good soaring day, although it was not straightforward for all those who flew cross countries, with a low cloud base and weak thermals to start and a transition to blue skies later in the day.  The combination of a large number of gliders wanting launches and  a light W'ly led to a decision to operate off runway 20, and this was certainly justified as 67 launches were flown on the day including 40 for private owners.  All the available club gliders were flown and, with the arrival back on site of the Pawnee from the 2 seater competition at Pocklington, all 4 tugs were also utilised.  The soarable nature of the day can by judged by the 38 flights that exceeded an hour, with a further 17 exceeding 30  minutes.  3 flights, Les Rayment in his Ventus, Lindsay McLane in his Ventus and Rob Bailey in his ASG29 all posted flights of over 6 hours, with 5 other pilots having between 4 and 6 hours and 15 having between 2 and 4 hours. Those flying cross countries had mixed fortunes, with some abandoning their declared tasks and some having to resort to their engines.  The latter were represented by Lindsay McLane,Les Rayment and John Shaw.  Lindsay completed 328 km of his 359 km O/R to Rutland Water in his Ventus near York, while Les, also in a Ventus, completed 231 km of his 305 km O/R to Grantham, having to resort to his engine at Scunthorpe on the way home like Lindsay.   John Shaw resorted to the engine of his LS10 on his return leg from Pocklington.  Those abandoning their tasks included John Ellis, who. declaring a 363 km task with TPs at Sheffield East, Saltby and Snainton, abandoned the attempt to get to Snainton and returned to Sutton after completing 294 km, while Darren Lodge abandoned his attempt to get to Grantham due to slow progress south and instead visited Goole NE, Burn, Pontefract and Rufforth before returning to Sutton.  Mark Newburn, attempting a Sliver Distance on the leg from the Tontine to Pocklington, ran into poor soaring conditions on approaching the Tontine and after a couple of attempts to reach the TP returned to Sutton in Astir DPO.  Those completing their tasks included Derek Taylor in his ASW22 who, despite encountering some engine problems on take off and some  radio problems later, flew the same declared task as John Ellis to cover, 363 km, Paul Whitehead in his Ventus who visited Belvoir, Cranwell North and Saltby South to cover 335 km, Rob Bailey who flew 307 km in his ASG29 with TPs at Market Raisen, Darlton and Chesterfield and Phil Lazenby who visited Driffield and Pontefract in the club DG303, a distance of 179 km.  Slingsby week visitor Mike Armstrong, flying his Olympia 463 visited Pontefract, Market Weighton and Garforth although I am not sure in which order.  Those remaining local to Sutton also enjoyed some good soaring with Ken Porter and Alan or Andrew Brind having 2:55 in their Duo Discus and Andy Parish and Paul Bulmer having an hour in K21 JVZ, on a day when flight times in club gliders were restricted due to demand.  Those flying club single seaters also added to the > 1 hour list, with Graham Taylor and Charles Willoughby having 1:29 and 1:26 respectively in Astir KRN, Mark Newburn having flights of 1:40 and 1:25 in Astir DPO, M Morgan having 1:18 in the Ka8 and Ron Beezer having 1:49 in the Discus, Ron being one of a number of pilots to report weak wave conditions just west of the site.  The day's flying also included 4 for First Flight pupils and a single Falke sortie, while later in the day a Robin visited the site and a 3rd scale Ka6 was flown by a Slingsby Week visitor.  A photo showing a nice convective sky with a Slingsby Week visiting SB5 sums up a good day's soaring at Sutton.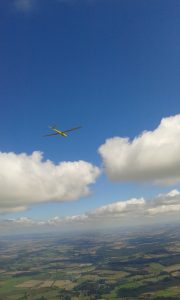 This blog describes a snippet of life at the Yorkshire Gliding Club. Why not take a flight and try it yourself, or we can teach you to fly as a full club member.