Tuesday 28th June to Monday 4th July
Posted: 05/07/2016 12:50
Tuesday 28th.  A light to moderate SSW'ly that soon backed into the SSE and then further into the ESE, presaged the arrival of frontal showers and then more persistent  rain, the first showers arriving around midday and signalling the end of flying for the day.  There was, however, time for 8 ATs to be flown before the first of the showers arrived, with K21 KLW and the DG500 providing the means, a goodly number of members taking advantage of low cost 1000' tows behind the EuroFox to practice circuit planning, approach and landing skills.  Notable exceptions were provided by the only First Flight pupil of  the day, Mr Pottage, who had 31 minutes with David Campbell in KLW off a high tow and John Carter and Chris Booker who had 28 minutes in the DG500.
Wednesday 29th.   The depression responsible for the 8 mm of rain that fell on Tuesday  remained in place to dominate the weather on Wednesday, with another 10 mm of rain falling during the day.  A clearance eventually arrived around 1900 hrs, with the wind veering into the WSW from the SSE and picking up in strength to become moderate to fresh with gusts to 30 kts.  By this time however, there was no around to fly.
Thursday 30th.  The departure of Wednesday's depression left the site in an unstable and moderate SW'ly flow, the air mass producing a number of showers, some of which were heavy.  In spite of this, the day's flying produced 24 launches in total with the launch method being either via the winch, 5 launches, or via AT, 19 launches.  2 private owners launched but it was otherwise a 2 seater day, with all 4 in action.  Steve Thompson, flying his Discus off the first  AT of the day had 1:40, while Lindsay McLane, flying his Ventus had 59 minutes, with Derek Smith and Chris Booker having exactly an hour in the DG1000, also off an AT.   Chris also made sure of maintaining  his winch launch currency  with a 35 minute flight with Andy Parish in K21 KLW.   While only 2 flights breached the 1 hr level, 11 exceeded 30 minutes with Tom Dale, flying the DG500 solo for 56 minutes and Geoff Taylor flying KLW solo for 50 minutes being the longest of these.  The 2 seaers were also kept busy with 7 First Flight pupils.
Friday 1st July.  The showery, unstable air-stream continued to cover the site, the wind being a moderate WSW'ly so, although the first couple of launches of the day were by AT, the rest, 17 in all were via the winch with flying commencing around 1030 hrs and ending just after 1600 hrs.  2 private owners launched and provided two of the three flights in excess of an hour, Martyn Johnson having 3:37 in his DG600 and John Marsh 2:03 in his DG303.  They were joined by David Watson and Nusrat Khan with 1:09 in K21 KLW.  Howard Marshall, with 59 minutes in the Ka8, Steve Thompson and Chris Booker with 58 minutes in K21 JVZ and Steve again in JVZ, this time with 57 minutes in  the company of  David  McKinney were three of the 5 flights to exceed 30 minutes while there were 2 flights for First Flight pupils.
Saturday 2nd.  Saturday saw a continuation of Friday's showery conditions, the wind slowly veering from the SW into the W over the course of the day, becoming moderate to fresh over the midday period with gusts to 30 kts and then moderating slightly, although, surprisingly, the gustiness increased to a point that led to the end of flying for the day around 1545 hrs.  14 winch launches were flown, with Andy Parish and Peter Goodchild doing all they could to keep the average flight time down as they undertook 3 launch failure simulations in K21 JVZ.  All the other pilots were naturally more intent on staying up, with Fred Brown and Chris Booker having 2 flights of 1:29 and 1:02 in the DG1000, while Duncan Pask had 1:15 in Astir DPO and Conrad Thwaites had 1:12 in the DG303.  Bob Beck and Mike Collins were another P1/P2 combination to have 2 flights of over an hour, recording 1:17 and 1:05 in K21 KLW on a day with plenty of hill lift.
Sunday 3rd.  With the heavy showers of the last few days noticeable by their absence, Sunday provided a notable soaring day, with hill, thermal and wave lift available, although the latter was not as easy to find as the former forms of lift.  The moderate to fresh W'ly, gusting over the middle of the day to 30 kts, precluded cross country flying, but 8 private owners flew,  mainly via some of the day's  29 winch launches  but with some contribution to the 8 ATs  of the day. With good thermal lift continuing into the early evening as well as hill  lift, it was no surprise that 29 of the day's flights exceeded 30 minutes with 14 exceeding an  hour.  Colin Troise was one of 2 pilots to record a wave climb, Colin reaching 8,600' asl  in his DG600 in a flight of 2:24 while Dick Cole reached 6,000' asl in a club 2 seater.  Colin's syndicate partner, Nigel Burke, had 2:20 in their DG600 earlier in the day, they being joined in the 2-3 hr flight time bracket by Tony Drury with 2:03 in  his DG303.  George Goodenough in his Cirrus was one of two pilots to exceed 4 hrs with 4:08 in his Cirrus, the other pilot being Darren Lodge with 4:04 in his LS8-18, while Chris Teagle with 3:23 in his Nimbus 2 and Les Rayment with exactly 3 hrs in his Ventus also made the most of the conditions.  Steve Ogden, flying Astir KRN, had 1:46, Chris Knapp in the DG303 had 1:41,  while the club 2 seaters were kept busy with members and 7 First Flight pupils, Kelly Teagle taking a Mile High aspirant, J Richmond, for 46 minutes in K21 KLW.  John Carter had 1:14 with David Key in the DG1000 and then followed this up with 1:09 in the company of Anton Mahnke, also in the DG1000, having time to provide the following photos as they enjoyed a high speed dash under a convenient street, cloud base being 5,000' asl.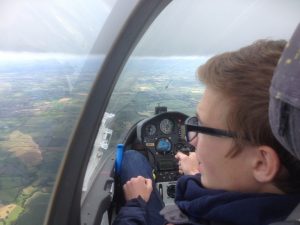 A very successful soaring day was topped off for Mark Newburn who successfully made the transition to solo on the winch, so well done Mark.
Monday 4th.  Monday saw the start of a new holiday course at Sutton, with father and son, Jonathon and  Michael Wallis, Ian Marshall and Phil Turner starting off the weeks flying by each having a trip in the Falke.  Thereafter, 17 ATs were flown off runway 20 into a light to moderate S'ly wind before  a small depression affecting the north of the UK brought rain by 1400 hrs.  Conditions earlier had been good and this encouraged Rob Bailey to set a 334 km triangular task in his ASG29t with TPs at Horncastle and Chesterfield.  After good progress down the first leg, conditions started to deteriorate after passing Market Weighton and the task was abandoned halfway along the second leg.  In spite of trying to keep to the better conditions now disappearing to the east, the rapidly approaching depression's cloud and rain meant that 4 engine burns were required to make it back to Sutton, flight time being just over 5 hours.  Back at site, Mike Greenacre was the only pilot to exceed an hour, having 1:25 in the Ka8, while 9 flights exceeded 30 minutes, with the best of these being Steve Thompson and M Collins with 43 minutes and John Carter and course member Ian Marshall with 42 minutes.  Brian Wise with A Davidson and David Watson,  with another course member Michael Wallis, shared flight times of 40 minutes, Brian in K21 KLW and David in K21 JVZ as 4 First Flight pupils were introduced to gliding.
This blog describes a snippet of life at the Yorkshire Gliding Club. Why not take a flight and try it yourself, or we can teach you to fly as a full club member.