Friday 24th to Monday 27th June.
Posted: 04/07/2016 21:28
Friday 24th.  A light to moderate SW'ly blew for most of the day, veering into the W later on, the air stream containing a few showers that, fortunately, had little effect on the day's flying.   Flying started just after 1000 hrs and continued until 1900 hrs with some Friday evening activity, this helping the First Flight pupil tally for the day reach 9 and the day's AT total to reach 30.   Early brightness allowed pre-noon ATs to provide 4 of the day's 5 flights to exceed 30 minutes, Ron Beezer and Christina Griffiths setting the tone with 53 minutes in K21 JVZ  and Andy Parish and First Flight pupil Mr Weatherall having 38 minutes in K21 KLW.    Chris Knapp  joined the list with 50 minutes in the DG303, but post noon,  with medium level cover, the only flight to join the >30 minute list was by Andy Parish and John March in the DG1000 and then only via a 4,000' tow.  In addition to the above flying the Falke was busy with 3 flights.
Saturday 25th.  A light and variable, but mainly W'ly wind blew and initially the sky developed some good looking Cu, although the forecast was for some significant CuNims to develop.  One eventually did in the vicinity of the site around 1500 hrs, depositing 12.5  mm of rain in the next hour and bringing flying to an abrupt end, but not before 36 ATs had been flown and  cross countries completed by some of the 8 private owners who rigged.    Derek Taylor, flying his ASW22, flew 307 OLC km on a YoYo with 3 TPs to the south and 2 to the north while Rob Bailey in his ASG29 used some early lift over the moors to glide out to Guisborough and back to the moors through the sea air, before then turning Scarborough, again having to enter the sea air.  Rob's picture of sunny  Scarborough is shown below.
Rob then found patchy lift en-route to Market Weighton but had to abandon his attempt to get to Wetherby by the approaching storm and landed back at Sutton just before the rain, having flown 182 km.  Andy Wright in his Nimbus 3, flew a 206 km task with TPs at Driffield, Sutton and North Duffield, finding some reasonable energy lines and a weak sea breeze near Driffield.  Derek and Rob were two of the pilots to exceed 3 hrs  in the air, the other one being Lindsay McLane in his Ventus.  Andy had 2:45 and Conrad Thwaites 2:54 in the DG303, they being among the 10 flights to exceed an hour, with Les Rayment in his Ventus and Robin Hutchinson in his Swordfish having 1:53 and 1:29 respectively.  A further 12 flights exceeded 30 minutes, with Albert Newbery having 58 minutes with Naomi Kennard in K21 JVZ and 55 minutes with Geoff Turner in the same glider.
Sunday 26th.  A light to moderate NW'ly saw flying commence around 1020 hrs and, with some thermal activity, continue until around 1600 hrs, 17 ATs yielding 4 flights of >1 hr and 7 > 30 minutes.  However, a backing of the wind into the WSW and an increase in strength to moderate, led to the option to winch and 8 of these were flown, this method of launching providing an additional  flight of > 1 hour and a further 5 > 30 minutes.  The ATing option appealed to 3 out of 4 of the private owners who rigged, with Darren Lodge in his LS8 having 2:48 while Martin Newbery had 1:18 in Astir DPO and John Marsh 1:10 in the DG303.   For those flying 2 seaters, John Carter and Chris Booker led the way with 55 minutes in K21 KLW, Chris Gill and one of the 6 First Flight pupils of the day, A Tait, having 50 minutes in the DG500. The winching brigade saw Conrad Thwaites have 1:07 in the DG303 and Martyn Johnson and Bryn Evans just miss out on the >1 hr list with 59 minutes in KLW.   Les Rayment and Chris Thirkell had 50 minutes in the DG500, Albert Newbery and G Claydon  47 minutes in KLW and John Carter and Mark Newburn  46 minutes in K21 JVZ on a day when the Falke had 4 flights.
Monday 27th.   A moderate to moderate to fresh W'ly blew all day, and with the winch employed, 13 launches were flown.  For a relatively brief period, the wave, obvious from the lenticulars overhead, was in phase with the hill, and this enabled Martyn Johnson in his DG600 to get a smooth transition from the hill into the wave, the latter eventually taking him to 14,800' asl.  The wave then moved, making the transition much more tricky and with conditions becoming less turbulent on take off, the Pawnee was employed from early afternoon to provide a more certain wave entry.  Only 4 ATs were, however, flown, as the turbulence returned just in time for Les Rayment's take off in his Ventus, with the result that  Les had to abort the tow on the climb out.  Les did, however,  continue to stay aloft for a flight time of 2:44.  The other 3 AT'd pilots, Steve Thompson in his Discus, Lindsay McLane in his Ventus and Roger Burghall in his ASW20 all safely contacted the wave, with Roger , who reached 10,500' asl in his flight of 2:07, supplying the following photos and remarking in the pure blueness of the sky above the clouds, these being 8/8 over most of the Pennines.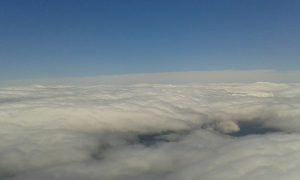 Lindsay McLane spent the 5:11 of  his flight doing an O/R to Keswick, while Steve Thompson used his  3:09 flight time in the warm summer wave to complete an undeclared 99.2 km with TPs at Ripon, Richmond and Masham before returning to Sutton, his highest altitude being just over 10,000' asl.  The other pilot to exceed 2 hours was Phil Lazenby with 2:19 in the DG303, while a further 7 flights exceeded 30 minutes.  The best of these were John Carter and Steve Derwin with 59 minutes in K21 JVZ and John Tayler and Chris Booker with 56 in K21 JVZ.
This blog describes a snippet of life at the Yorkshire Gliding Club. Why not take a flight and try it yourself, or we can teach you to fly as a full club member.