Tuesday 17th to Wednesday 18th May.
Posted: 18/05/2016 20:56
Tuesday 17th.  The Atlantic fronts approaching from the west of the UK didn't make their presence felt at Sutton until mid afternoon, although prior to this, some early spreadout and a low cloud base had delayed any cross country attempts, the light to moderate WSW'ly  wind slowly backing into the SSW over the course of the day.  41 ATs were flown, 12 by private owners, with Rob Bailey and Phil Lazenby posting cross countries on the National Ladder and being among the 12 pilots to record flights of over an hour.  Rob attempted a Thirsk/Snainton/Garforth/Thirsk triangle but abandoned it at York on the second leg due to poor conditions further west, but did eventually make it back to site after covering 110 km, around 70% of his declared  task.  Phil, flying the club DG303, flew a undeclared 155 km task following the weather, a plan that saw him find some good lift at times, a best cloud base of 5,000' asl and visits to Masham, Fridaythorpe and Helmsley.   A number of other pilots signalled their intention to go cross country including George Goodenough, with a declared O/R to Burn and  visitors Johnson and Hargreaves who both declared the 100 km Sut/Poc/Ruf/Sut triangle.  However, confirmation of their success or failure is not available, while Jon Hart in his Vega was, like the aforementioned pilots. aloft for between 2 and 3 hours and Les Rayment in his Ventus just fell short of joining this group with  a flight time of 1:52. Most of the above flights launched between 1300 and 1530 hours, with George's launch being the exception at just before 1200 hours.  However,  Mike Wood, flying Astir DPO, demonstrated the presence of some early lift by a 57 minute flight which launched at 1040 hours.  The day's flying , which finished around 1730 hours, saw most of club fleet in action, the 2 seaters accommodating 3 First Flight and a Mile High pupil, with John Carter and Alan Beamish recording the longest 2 seater flight of the day with 1:12 in K21 JVZ.
Wednesday 18th.  Tuesday's Atlantic fronts had progressed to the eastern side of the UK by the start of the day, providing light rain and extensive cloud cover for most of the morning. Their departure into the North Sea saw the rain stop and the cloud lift and break, the better conditions not tempting anyone to fly, but allowing Mike Brown to do a spell of grass cutting on runway 24.  The unstable conditions post front saw a number of heavy showers develop as well as a funnel cloud that was photographed to the west of the site around 1630 hours, as shown below.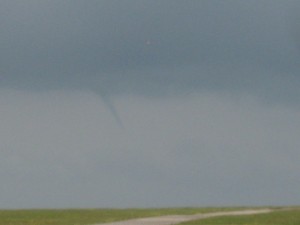 This blog describes a snippet of life at the Yorkshire Gliding Club. Why not take a flight and try it yourself, or we can teach you to fly as a full club member.