Thursday 5th to Tuesday 10th May
Posted: 10/05/2016 20:49
Thursday 5th.  A moderate SSE'ly that slowly veered to become S'ly by the end of the day was accompanied by sunny skies and early forming Cumulus, although there was an overlying layer of thin wispy Cirrus.  The launch point was soon busy to accommodate all who wanted to fly including 14 private owners and 4 First Flight pupils and they were joined by Paul Hudson and a small team from BBC  Yorkshire who had come to record the Paul Hudson Weather Show which was scheduled to be broadcast at 1200 hrs on Sunday 8th on BBC Radio York.  The recording included interviews with Club President, Nick Gaunt, CFI Andy Parish, Polly Whitehead and George Rowden as well as listen in, via an on-board digital recorder, to  John Carter and Chris Haresnape as they flew a training sortie in K21 JVZ.    The day turned out to be a reasonable thermic one with a number of pilots flying cross countries including Paul Whitehead in his Ventus, Rob Bailey in his ASG29 and George Rowden in his LS8-18.  Pilots reported difficult conditions below 2,000' asl with weak, broken thermals but Rob flew a 144 km triangle around Wetherby South and Market Weighton while George flew a 107 km triangle around Stamford Bridge and Snainton.  The visitors from Shalbourne GC made the most of the day, Mr Peacock having just over 4 hours  and Messrs Morgan and Pike having just over 3 hours in their Janus, they being joined in the > 3 hr brigade by YGC member Graham Taylor who had 3:10 in the Discus during which time he achieved his Silver C hieght , so well done Graham.  Other pilots to exceed 2 hours were Paul Whitehead in his Ventus with 2:55, Duncan Pask in his LS10 with 2:35 and Nigel Burke in his DG600 with 2:32.  In all, 17 of the day's 41 launches exceeded an hour with course member's Jane Tocher and Peter Whitcombe adding 1:21 and 1:32 respectively to their week's flying hours in the company of course instructor Ian Willows, while Mike Smith had 1:14 in the DG303 and Simon Altman just missed out with 55 minutes in Astir DPO.  The day's flying activities a Falke flight.
Friday 6th.  A  depression to the south of the UK meant it was a day of light to moderate E'lies at Sutton, and this, together with Cirrus based high cover, restricted soaring opportunities, with only 4 flights out of the 30 flown on the day, exceeding 30 minutes, the visitors from Shalbourne contributed 6 private owner launches.  All the club 2 seaters were flown, but none of the single seaters, although Nigel Burt flew his Vega for 30 minutes while Liz Kiely flew K21 JVZ solo for 48 minutes to record the longest flight of the day.  Ian Willows and course member Peter Whitcombe were close behind Liz with 45 minutes in the other K21.  Brian Wise managed to give 2 of the 4 First Flight pupils of the day 42 and 30 minutes of flying time in the DG500, flying continuing until around 1730 hrs.
Saturday 7th.  The wind had backed further in to the NE/ENE, though remaining light to moderate and while the day was sunny and warm,  the Cirrus cover having thinned compared to Saturday, the morning was without much soaring activity, although this meant that the group of 5 visiting Scouts and the first few of the day's 7 First Flight pupils had a smooth introduction to gliding.  22 ATs were flown on the day with weak thermals and weak wave downwind of the site enabling 2 pilots to enjoy some soaring later in the afternoon.  Thus, Andy Parish and Tim Stanley had 1:09 in K21 KLW  while getting back to their launch height  of 3,000' asl, Jim McLean had 1:07 solo in K21 JVZ off the last flight of the day and Colin Troise flying the DG500 solo had 58 minutes.  The day's aviating also included 3 flights by the Falke.
Sunday 8th.  The high Cirrus had cleared to leave blue skies, and a light SE'ly, the conditions  leading to the warmest day of 2016 at site, the temperature peaking at 21.7C.   A strong inversion did however, restrict soaring conditions with only 5 flights out of the 22 flown on day exceeding 30  minutes with 2 passing the hour mark, the wind slowly backing into the E.  Jamie Quartermaine and Charles Willoughby had 1:03 in K21 JVZ, with Charles going on to have 36 minutes solo in the same glider later in the day.  Chris Gill took his guest Mr Hope for 1:02 in the DG500, while Tony Drury, the only private owner to rig and launch, had 43 minutes in his DG303.  The log recorded flights by 5 Scouts and 6 First Flight pupils, while 3 Falke flights meant that all but the DG1000 of the club 2 seater fleet were flown.
Monday 9th.  A moderate ENE'ly saw initial operations of runway 06, Eurofox YR providing the tow, these being the first by the Eurofox off this runway.  However, low level turbulence on the take off led to change to runway 02 although landings were on 06.  A strong and low inversion led to washing machine conditions low down and smooth conditions higher up, but this didn't seem to deter John Carter and Resh Khodabocus who had 9 of the 11 ATs flown on  the day, most of which were 1,000' tows.  A notable exception was a 3,000' tow by John and Mark Newburn in K21 JVZ, the only glider to fly, which resulted in the longest flight of the day at 18 minutes.  4 of John and Resh's flights were photographic sorties in order to get footage of a glider against the background of  the Kilburn White Horse for a promotional video for York City Council, a GoPro camera being mounted on the wing tip.   Various shots of the required scene were obtained including one looking up at the White Horse which was obtained by a 100+ kt dive below the ridge followed by a pull up and right hand Chandell in order to position for final approach onto runway 06.
Tuesday 10th.  The early, if hazy, sunshine was soon replaced by thickening and lowering cover as the depression to the south moved slowly north, the wind being a moderate ENE'ly, although this slowly abated to become light. With rain close by to  the south of the site by late morning, no flying was undertaken, the Aim Higher course continuing in the briefing room.  However, the early sunshine did allow Resh Khodabocus and John Carter to make a start on preparations for the visit and talk by World Gliding Champion Sebastian Kawa on Thursday 19th May, their  efforts being illustrated in the following photos, although contrary to appearances, I do believe the event will be held indoors.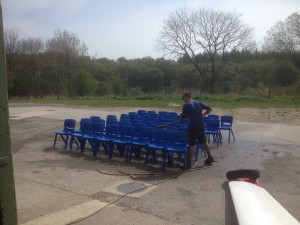 This blog describes a snippet of life at the Yorkshire Gliding Club. Why not take a flight and try it yourself, or we can teach you to fly as a full club member.