Friday 13th to Monday 16th May
Posted: 17/05/2016 12:47
Friday 13th.  A southward travelling, very weak, cold front meant it was a day of overcast skies and occasional bits and pieces of rain in a progressively cooler, moderate N'ly, the result of which was a non-flying day, but at least there were no distractions for those attending the final sessions of the Aim Higher Course.
Saturday 14th.  The post cold front air mass provided good soaring conditions which coincided with Ladies Day, headed up by Polly Whitehead, at which a number of women were introduced to gliding, 21 of the day's 46 ATs off runway 02, having a woman as P1 or P2  and in many cases both.  Flying got under way around 1015 hrs and soon the launch point was busy with club and private gliders, for in addition to the visiting Ladies, there were also 4 First Flight pupils to fly and a visiting group from the Essez and Suffolk GC.  Many of the 15 private owner launches led to cross country flights with David Latimer in his Ventus being 1 of 2 pilots to cross the Pennines.  David visited Lockerbie and Milnthorpe in his Ventus  to cover 363 kms, his first trip into Scotland from Sutton Bank, enjoying some splendid views and having a few tricky moments.  Rob Bailey in his ASG29 was forestalled from reaching his 1st TP at Wast Water East by Irish sea air but continued with his flight around Chollerford Bridge and Eastgate to cover 306 km and provide some of the views appreciated by David as shown below, these being of High Street in the Lakes.
Meanwhile, back at Sutton,  Phil Lazenby resumed an acquaintance with an Olympia 263 which he flew some 27 years ago and which has recently been refurbished by its present owner Mike Armstrong who was visiting Sutton from Camphill.  The following photo shows Mike and Phil readying the glider for a launch which resulted in Phil visiting Pocklington, Tockwith and Boroughbridge to cover 112 km with a flight time of 3:36.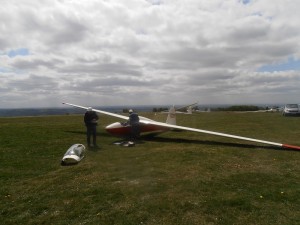 Phil was one of number of pilots to go  cross country the others including Darren Lodge who flew his LS8 around Pontefract and Northallerton to cover 208 km, Martyn Johnson with 164 km in his DG600 with TPs at Aysgarth, Selset Reservoir and Masham, Steve Thompson in his Discus with 162 km around Carlton and Rufforth and Chris Knapp in the club DG303 with 102 around Northallerton and Rufforth 1.  Derek Taylor flew an OLC 235 km shake down flight in his ASW 22 while John Ellis and Ian Bulous, both DG800 pilots, also departed the site and returned but to and from where is currently an unknown.  Pilots reported good lift at times with cloud base up to 6,000' asl over the Pennines but it wasn't all easy going with 3 YGC pilots landing out and a pilot from Camphill, Mr Gray landing at Sutton and subsequently having an AT retrieve back to Camphill.  The three YGC pilots to land out were Andy Hatfield in Astir DPO who landed out near Kirklington while attempting a 300 km task around Doncaster NW, Catterick and Pontefract, Peter Goodchild in his Pik 20 who, attempting the same task, landed out near Kirk Deighton and Tony Drury in his DG303 who almost made it back to site after turning the Tontine and Rufforth but who landed out  near Kilburn and made a bid for the Aux Vache trophy.  Back at site, one of the day's lady pilots joined the > 1 hour list with  1:01 in K21 JVZ in the company of Andy Parish and Andy also had 1:07 with Chris Thirkell in the DG1000.
Sunday 15th.  Sunday dawned with light and variable winds and a somewhat milky sky, but did provide another soaring day with 16 of the day's flights exceeding 30 minutes and 11 over an hour from the 40 AT launches.  The club two seaters were busy all day with a 8 strong group of visiting Scouts, 6 First Flight pupils and members, while the trailer park was also busy as 10 private owners took to the skies.  Andy Wright took his Nimbus on an O/R to Gainsborough, a flight of 195 km, Rob Bailey flew around Wetherby South and Market Weighton in the weak lift to record 137 km and Andy Parish took the club Discus around the local 100 km triangle with TPs at Pocklington and Rufforth.  A number of other private owners recorded > 2 hour flight times including John Ellis in his DG800 with 2:43, Darren Lodge in his LS 8 with 2:48 and Martyn Johnson in his Dg 600 with 2:28.  Tom Dale soared locally in Astir DPO for 1:33, while the best 2 seater times were by Jamie Quartermaine and Alan Beaumont with 38 minutes in the DG500 closely followed by John Carter and Tasher Woods with 37 minutes in K21 JVZ.  The club also welcomed Tom Pavis from York GC who landed out at Sutton in his Libelle before having an AT back, while another visitor was the North Yorkshire Police helicopter, the occupants of which later remarked on the welcome cup of tea and cake obtainable from Liz and helpers.
Monday 16th.  A not very enthusiastic forecast from RASP seemed to put off a number of members, but in reality the day provided good soaring opportunities until late afternoon when the forecast spreadout started to take hold as did the much more welcome forecast sea breeze front.  21 ATs were flown off runway 20, with Brian Wise looking after the 4 Frist flight pupils of the day. The wind was light from the WNW until around 1600 hrs when the passing sea breeze front caused a change to E'ly.  9 private owners took launches, including the visiting pilots from the Essex and Suffolk GC, and a number of cross countries were flown.  Lindsay McLane, the rostered tuggie for the day, was relieved in every sense when Dick Cole arrived and  took over tugging duties, allowing Lindsay to rig and fly his Ventus and record the longest flight of the day at just over 5 hours, one of the 13 to exceed an hour.  Lindsay abandoned his task when grey overcast skies near the east coast precluded him getting to Snainton, but instead enjoyed a flight up sunny Wensleydale, a excursion over the Pennines being ruled out by low cloud bases on the other side.  Derek Taylor flew his ASW22 327 OLC km with TPs at Pontefract, Tontine (twice) and Pocklington before soaring the well defined but weak  Sea Breeze front to Pickering and back.  Pontefract turned out to be a popular TP, with both Rob Bailey in his ASG29 and George Rowden in his LS8-18 including it in their tasks, Rob flying 238 km with his other TPs at Guisborough and Beverley while George also included Beverley in his 179 km triangular task, he and Rob sharing a thermal near Beverley en route.  Steve Thompson showed his independence by flying 158 km around Guisborough W, Rufforth and Northallerton  in his Discus.  Conditions away from the coast were good with some strong climbs, particularly over Drax power  station, and a cloud base that eventually approached 4,500' asl.  Back at site conditions remained good all day, with visitor M Hargreaves having 3:22 in his Lak 17, David Cambell having 1:24 with Kaz Fucks in K21 JVZ and John Carter, putting in some solo soaring practice as a change from instructing, taking JVZ solo for a 30 minute flight in which he did 2 climbs to cloud base from 1,000' QFE and also indulged in some aerobatics.  The arrival of the sea breeze front at the site allowed John and Peter Robinson to enjoy using its lift to provide  an 1:08 flight in JVZ as the following photos show, while Baz Sonnerveld did some late soaring in Astir DPO landing at around 1730 after a flight of 1:33.
After the close of play, Mike Brown provided a guided tour of the gliders and facilities to a group of visiting Beaver Scouts and leaders, including accommodating all 18 of them in the simulator room as he demonstrated virtual flight surrounded by a sea of faces.
This blog describes a snippet of life at the Yorkshire Gliding Club. Why not take a flight and try it yourself, or we can teach you to fly as a full club member.