Saturday 23rd to Tuesday 26th April.
Posted: 26/04/2016 15:46
Saturday 23rd.  Saturday dawned with the  cold, Arctic, unstable airmass still in place, the light to moderate N'ly wind pegging the maximum temperature to 6,5C and Cu starting to blossom by mid morning.  The prospect of a good soaring day led to 8 private owner launches out of the 18 of the day, with a number of pilots attempting cross country flights and contributing to the 6 flights of over an hour, a further 4 exceeding 30 minutes.  The instability of the airmass led to the formation of showers by the afternoon, these being of snow at flying height, and their intensity and frequency affected many of the tasks set on the day.  Lindsay McLane, flying his Ventus, managed a 292 km O/R to Alton Towers and Fred Brown, another Ventus pilot flew a shorter O/R of 119 km to Pontefract, but both had to dodge showers on the way back.  Rob Bailey, attempting a 367 km task in his ASG29t, abandoned it on the way to Tockwith having turned Sheffield South, due to  a looming line of showers  north of Sutton and made it back to base having flown just over 200 km.  John Ellis, intending to visit Pontefract, Aysgarth and Burn in his DG800, abandoned his task on the way north from Pontefract to Aysgarth due to shower activity and instead turned Harrogate North before visiting Beverley and returning to Sutton, covering 241 km in the process.  David Latimer, another Ventus pilot, had, however, the best hard luck story of the day.  Declaring a 307 km task with TPs at Sheffield South, Tockwith and Conisborough Castle, David battled low points and snow showers to eventually get to well above final glide, only for further snow showers to eliminate his margins with the result that he had to resort to his engine some 2,5 km short, having completed 99.2% of the task. Flight times for the cross country pilots were typically in the 3-5 hour region, while back at site the club 2 seaters were busy with 6 First Flight pupils and members, one of whom, Anton Mahnke had 57 minutes with Martyn Johnson in K21 KLW and a returning First Flight pupil, K Vorden had 48 minutes in the same glider, again with Martyn.  The focus of attention than moved to the Golden Lion in Thirsk where the annual YGC dinner and award ceremony was held, a splendid meal and evening being had by all, congratulations being due to all the trophy winners, an additional trophy being awarded to Fred Brown by Jim Mclean for the worst retrieve of 2015 which was not completed until 2016.  At an earlier, but nevertheless equally auspicious  ceremony in Darlington, long time partners David Campbell and Andi Causer also deserve our congratulations as they  became Mr and Mrs Campbell.
Sunday 24th.  Although synoptically,  nothing much had changed since Saturday and the wind remained light to moderate from the N, the sky remained  generally overcast, although its base was high enough to allow flying to take place and there were brighter interludes at times, these contributing to thermal activity while some weak wave activity was evident in the morning.  23, at times lively,  ATs  were flown from runway 02 as members, 6 Scouts, 5 First Flight pupils and a Day Course member took to the air, the only private owner launch of the day, Jon May and Steve Ball in their Duo Discus, making the most of the limited lift to record the longest flight of the day by far with 1:21.  The next best was Polly Whitehead who, flying K21 JVZ solo, had a flight time of 35 minutes , with John Marsh taking S Harrison, one of the day's First Flight pupils for 31 minutes in the DG1000 and Tom Dale and Simon Altman had 28 minutes in the DG500.  Tom spent considerably longer in the cab of the big tractor as he manoeuvred the heavy roller over runway 24 to flatten out the ruts and ridges generated by winter and early spring operations on the airfield.  Meanwhile, Dick Cole was busy visiting Rufforth in  Eurofox RA to provide them with AT capability, while a visiting microlight Pioneer 300 to Sutton had an enforced stay resulting from the sustaining of  some damage on landing.
Monday 25th.  A weak cold front associated with a southward travelling depression over the North Sea crossed the site around mid morning, causing a marked increase in the speed of the N'ly wind from light, to moderate to fresh,  gusts to over 30 kts and increased shower activity, these factors combining to prevent any flying during the day, apart from a single sortie by the Eurofox.  This allowed Les Rayment to take a cameraman aloft to take photos of the Tour De Yorkshire art work now adorning the northern end of runway 02 as the even colder Arctic air behind front reduced the maximum day time temperature to 2,5C.
Tuesday 26th.  The N'ly flow was still in evidence, as were a series of large showers, one of which, reaching the site around 0900 hrs led to the site taking on a winter feel , as the following photos of the club house and runway 02 show.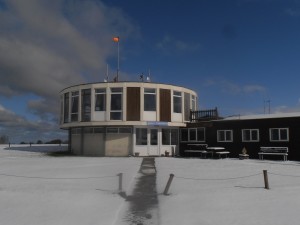 The snow soon melted, but the day was marked by a succession of such showers which prevented any flying, the light to moderate N'ly wind continuing to gust into the high 20's as the showers arrived.  With no flying possible, Tom Dale spent a significant part of the day in the bar but only, I hasten to add, doing a grand job of cleaning and stock taking.
This blog describes a snippet of life at the Yorkshire Gliding Club. Why not take a flight and try it yourself, or we can teach you to fly as a full club member.