Friday 1st to Wednesday 6th April
Posted: 06/04/2016 20:46
Friday 1st.  A cloudy air stream in a moderate to fresh  S'ly flow brought some patchy  rain from mid afternoon,  the rain being accompanied by some gusty winds, these peaking at around 37 kts.  The onset of the rain and strong winds led to flying being abandoned for the day around 1500 hrs after 8 ATs had been flown, with 4 of those leading to flights of over 30 minutes, although no one managed an hour.  Flying was shared between the 2 K21s, with Andy Parish and Chris Haresnape having 43 minutes in JVZ, the same time being achieved by Joan Wilson flying the same glider solo.  The other flights to exceed 30 minutes were by John Tayler and Chris Booker with 37 minutes in KLW and Andy Parish and Mr Alderson, one of the 3 First Flight pupils of the day, with 32 minutes in JVZ.
Saturday 2nd.  A slowly, northward moving warm front meant it was a  non-flying day, the low cloud and rain not clearing until late afternoon, the SSE'ly wind slowly declining from light to moderate to become light as the weather cleared.
Sunday 3rd.  Another cloudy day, with the base low enough to preclude any flying until after lunch time. Once started around 1300 hrs, flying continued until just before 1800 hours by which time 19 ATs had been flown, the intial SE'ly wind having veered into the SW while remaining light to moderate.  Usable lift was very hard to find and this, coupled with a significant proportion of 1000' tows, meant only 1 flight made it to  30 minutes, this being by Andy Parish and Tony Drury in K21 JVZ,  The next best was by Bob Beck and Andy Tyas in K21 KLW with 19 minutes.   It was again a day when only the club's 2 K21s were flown, although Sue Aherne and Tom Dale made sure it was not a complete 2 seater day by flying solo, they each registering 16 minute flight times.   The lack of any usable lift led to some pilots resorting to Falke engine power in order to achieve longer flight times, this option leading to a busy day for the aircraft with 6 sorties flown on the day.
Monday 4th.  Another dull and damp start to the day, with some thunderstorm activity around  midday, the light to moderate SSE'ly flow veering into the SW as the skies started to clear mid afternoon, too late for any flying activity to take place.
Tuesday 5th.  A light W'ly slowly increased to become moderate as an occluded front's wet and cloudy weather moved northwards, clearing skies starting to appear during the afternoon, but too late to permit any flying to take place.  However, later, 2 members went to see if High Flying Middlesbrough could sustain their flight out of the Championship to reach their goal of the Premiership, as the following photo shows.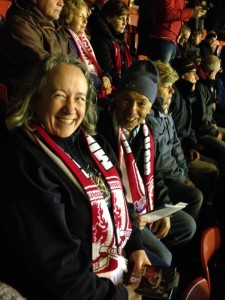 Wednesday 6th.  An overnight cold front brought in a moderate to fresh, unstable W'ly, the air stream containing frequent and at times heavy showers of rain and even hail.  Wind speeds around the showers showed significant increases, with a peak gust of 41 kts noted  and this combination of gustiness and rain affected the launch total with  only 11 winch launches flown.  Flight durations were also affected, with some flights being of the up round and down variety  as the showers rapidly approached, this being particularly the case with Andy Parish and Chris Haresnape's flight in K21 KLW which was back on the ground after a flight time of 3 minutes although they managed a longer flight later. One of the day's flights made it to the hour, while a further 4 exceeded 30 minutes, one of these being with the only First Flight pupil of the day, Max Mery, who John Marsh took for a 37 minute flight in K21 JVZ.  The day saw the SZD Perkoz demonstrator on site with its handling and performance being investigated by Andy Parish, Derek Smith, John Carter and John Tayler while accompanied by  Polish pilot Michael Ombach.  John Allen, visiting from the Borders GC, also flew the Perkoz for 56 minutes accompanied by M Berndhager.  As well as general handling, the stall and spinning characteristics of the Perkoz were tested as was its aerobatic credentials, these being demonstrated by its Polish pilot and including some inverted hill soaring at 300' QFE over the main bowl, John Carter getting an unusual view of Farmer Brown's fields.  John, later flying  with Derek Smith in the Perkoz, posted the longest flight of the day, 1 hour, during which they climbed to 4,000' asl up the face of a shower.  Pilots reported 6-8 kts of  lift at times but turbulent conditions were the order of the day.  Some photos of the SZD Perkoz are shown below while the address of  a video clip of its inverted ridge soaring at Sutton  is here https://youtu.be/GgRTdGQETaA..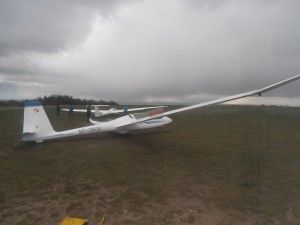 This blog describes a snippet of life at the Yorkshire Gliding Club. Why not take a flight and try it yourself, or we can teach you to fly as a full club member.